When it comes to working out, I believe that everyone's body is different. What works for me may not work for someone else. I do not claim to be a fitness expert by any means, this is simply a post about what I do to keep in shape when I am at home in NYC. First, there are few things to keep in mind if you want to maintain your routine.
Find your balance. It has taken many years of trial and error to find the balance that I have today. Changing up your workouts so that you're not always doing the same thing is key. However, you need to work the same muscles often enough to where you are seeing a difference otherwise you are just wasting your time. For example, If you go to pilates once a month you are not going to see a difference because you are giving your muscles too much recovery time in between classes. And try to give your body at least one day of rest a week from doing strenuous activity. I usually exercise about 5 days a week, and I never do the same workout back to back. I usually alternate between cardio days and toning days, sometimes combining the two.
Don't overdo it. Listen to what your body is telling you. If you feel light-headed and exhausted after a workout then it's probably too much for you. Find something that makes you slightly uncomfortable (because, no pain, no gain) but you should feel strong and energized afterward. If you are killing yourself during a workout you're probably going to either injure yourself or get burnt out. Either way, it's not sustainable in the long-run.
Have a goal in mind. Your workout routine should be different depending on your goal- if your goal is to trim down, you may want to incorporate more cardio into your daily routine.  I know some girls who are naturally very thin and don't want to lose any weight who focus their workouts more on muscle building exercises. However, with any fitness goal, your diet will play a huge part in how your body looks (I will do a post on this in the future).  Find a balance that works for your body. Below is my usual routine, which I will tweak according to what my body is telling me.
Pilates
I cannot express my love for Pilates enough. It's the one workout that has changed my body the most. I usually do Reformer Pilates about two times a week at Sal Anthony's Movement Salon in Gramercy. I found this studio because it's literally right across the street from my apartment, and now I can't live without it.
The only instructor I go to is Nofar Hagag. She attracts a die-hard clientele, which includes some high-profile models and other people with enviable bodies. Don't be fooled by the old equipment and the eclectic style of the studio, this class will leave your abs sore for a week. The studio is very low key and there's no hype around it, but it's my go-to when I am trying to get in shape for a trip or an event.
Boxing
I have recently gotten into boxing-inspired workouts because it's great cardio without being too hard on my knees. I am obsessed with Rumble in New York right now. If you have an Instagram account odds are you probably know about Rumble already. It seems like everyone and their mom is now addicted to this class. To me, it's a more enjoyable alternative to those boot camp classes everyone's doing. You alternate between the aqua bags (punching bags filled with water), and the floor 4 times. The whole workout is about 45 minutes and it will kick your ass and leave you dripping in sweat. I try to go at least once a week.
Yoga
I try to do yoga once a week. That doesn't always happen because sometimes I feel that I'd rather do something more active that burns more calories. However, when I do make it to a yoga class I like to go to Y7 for that reason- it's more active than some of the other classes in NYC. Not to mention they play hip-hop music which gets me in the zone. You repeat each sequence a few times then they let you do the sequence on your own which makes it a mental workout as well since you have to remember all the poses in the flow. Y7 is usually my Monday spot when I'm a little tired and I want to stretch, meditate, and sweat out all of my toxins from the weekend in a dark heated room lit by candles.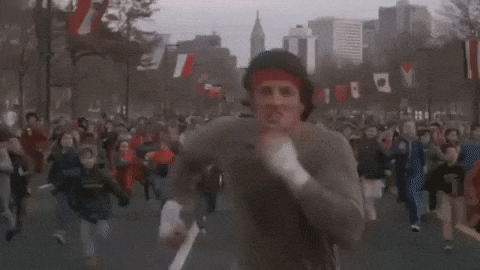 HIIT
This last one is not a class- it's high-intensity interval training. I try to do this between one and two times a week. HIIT is when you alternate between high and low intensity for short bursts of time. It really speeds up your metabolism and is the best thing to do when you are in a time-crunch because you continue to burn calories even afterward. I do my whole HIIT routine in about 17 minutes on a treadmill, and it goes like this:
5 min- jog on a 0% incline at 6mph
1 min- run on a 2% incline at 7mph
1 min- walk on a 2% incline at 4mph
1 min- run on a 2% incline at 7.5 mph
1 min- walk on 2% incline at 4mph
1 min- run on 3% incline at 8 mph
1 min- walk on 3% incline at 4mph
1 min- run on 3% incline at 8.5 mph
1 min- walk on 3% incline at 4mph
1 min run on a 4% incline at 9 mph
1 min walk on a 4% incline at 4mph
1 min run on 4% incline at 9.5 mph
1 min- walk on a 0% incline at 4mph
Afterward, I normally cool down by stretching, and/or doing some mat exercises for my butt and abs for about 10 minutes if I have time.